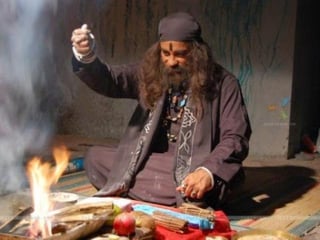 MOBILE MARKETING SPECIALISTS IN TORONTO DON'T LOOK ANY DIFFERENT FROM ANYWHERE ELSE, BUT if you are looking for an inbound marketing agency to help you optimize your website for mobile you're looking in the right place.
According to Morgan Stanley, in five years there will be more mobile internet users than desktop users. That is just one of the many reasons we at Henderson Robb Marketing are taking mobile very seriously. In fact, we're testing our newest site on our mobile platform (HubSpot) because we know pretty soon all websites that are on the HubSpot software platform will have mobile optimized viewing enabled.
However, like everything else in marketing, having an effective mobile strategy takes more than just making your website mobile-friendly. Going mobile calls for an integrated approach.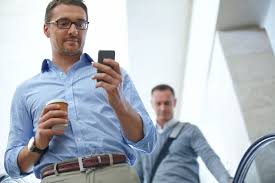 HERE ARE 4 INSIGHTS TO GUIDE YOUR MOBILE STRATEGY
Mobile marketing is becoming more attractive as smartphones and mobile Web browsing gain popularity. Many insurance marketers, are, or soon will be experimenting in this channel for the first time.
Before launching your first mobile marketing tests, consider these key insights from a mobile marketing expert. In this article I've included a breakdown of mobile website categories, a list of mobile communication options and advice for planning your strategy.
THE MARKET
Technology always increases in power and decreases in price over time. The multi-million dollar supercomputer of yesterday is today's five dollar pocket calculator. Mobile phone technology is no different.
More people than ever before are carrying smartphones:
60% of all mobile subscribers used a Web browser on a mobile device in 2014. 40% downloaded a mobile device
Mobile is mainstream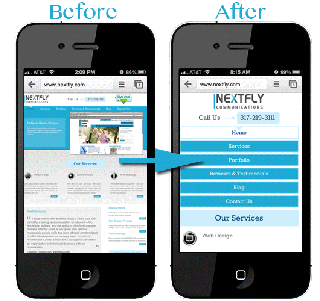 Insight #1, Start with a mobile Web presence
Any inbound mobile marketing specialists in Toronto should tell you that the cornerstone of any mobile strategy should be a Web presence, whether it's a single landing page or a full mobile site. Even if a marketer is experimenting with sending SMS messages, these messages should include a link to a page where mobile users can learn more.
Here are four types of mobile Web presences:
1. Mobile versions of existing sites
Companies have built mobile websites which offer nearly the same features as their traditional websites, but which are adapted to a hand held format. A textbook example is Facebook's mobile website.
2. Plug-in-based mobile sites
Similar to the first category, blogs and websites based on WordPress, Drupal or similar open-source platforms can use free plug-ins which format sites for mobile audiences.
As the name suggests, these single-page entities can be created quickly to add a mobile-Web presence to a marketing campaign. We used this solution for an insurance company we work with just this past year as we will not be building their new mobile friendly website until this year.
4. Dedicated mobile sites
These sites are standalone, multi-page entities, not mobile versions of a traditional website. They have their own designs and strategies to meet the needs of mobile visitors.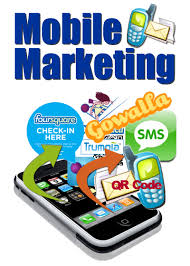 Insight #2. Consider all the options
Mobile networks and devices provide a range of ways to reach a an audience -- such as text, voice and email. When your team is considering how best to incorporate mobile into your marketing, consider all the major possibilities:
Short Message Service (SMS) -- SMS is capable of sending minimal, text-based messages to your audience, which can include links to call a phone number or visit a website.
Multimedia Message Service (MMS) -- MMS is similar to SMS technology, but can also send content such as images, video and audio files such as ringtones.
Voice -- Similar to traditional Web browsing, the mobile Web is continually adding pages of content designed for easy access from handheld devices.
Proximity marketing -- Smartphones with GPS and similar technologies are capable of broadcasting locations. Some marketers are taking the opportunity to deliver ads to mobile users in specific locations, such as when they're near brick-and-mortar stores.
Applications -- Computer programs specially designed for smartphones are widely available and have their own marketplaces. Some marketers have directly integrated campaigns into their audiences' phones by designing and offering a branded mobile app.
Content -- Branded content -- including ringtones, images, videos and ebooks -- are just a few of many different types of digital information marketers can provide in a mobile format.
Email --As any business professional with a smartphone will tell you, email is a mobile channel. People frequently receive and send digital letters through handheld devices.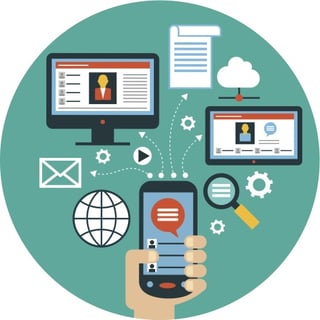 Insight #3. Mobile does not stand alone -- Mobile marketing does not succeed as an isolated channel, it works best when integrated with other channels and tactics to form a cross-platform strategy.
Examples include:
Combining SMS or barcode calls-to-action in traditional advertising
Mobile apps that integrate with televisions shows
Mobile coupons for in-store sales
Mobile promotions should also be integrated with other channels. For example, mobile content should be promoted on your website -- e.g. if you're advertising a free whitepaper download and it's available in a mobile format, mention this in your website ads. Think of your mobile strategy, in general, as the glue that holds all media together and connects all of your existing media channels.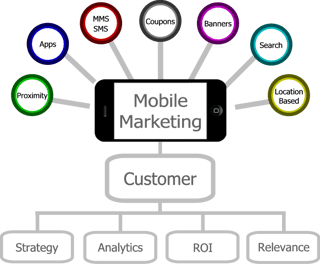 Insight #4. Mobile requires a well-planned Inbound Accountable Marketing Strategy -- It can be tempting to quickly test proximity marketing or a mobile website just to see what happens for your insurance brand. But mobile marketing initiatives should be carefully planned, otherwise, you risk wasting time and money, and possibly damaging your brand.
Areas to talk with your inbound mobile marketing specialists:
Overall marketing strategy
Mobile devices are extremely personal. Owners carry then everywhere, and during all stages of the buying process.
Given mobile's "constantly-connected" attributes, you must understand the impact of making mobile information available throughout your entire marketing strategy. Your team should know:
Which specific goals you want to achieve
How the tactic will help achieve those goals
What possible negative impact it could have
How Henderson Robb Marketing could help you with a mobile strategy:
We would work with you and your marketing assistants to determine ways in which your audience would, or already does interact with your insurance company on mobile devices. Put yourself in their shoes -- how could they use a smartphone to learn more about your products?
By checking your website's analytics we may find mobile visitors are already accessing your site. We've done this for one of our insurance brands and found some very enlightening numbers.
Media buying and budget
We work with your team to consider where mobile marketing fits into your media budget and priorities. Together we will have to gauge investment and potential return while ensuring the overall media the overall media plan is capable of meeting its targets.
Some mobile channels are inexpensive to test. For example, your team could easily add a call-to-action to your traditional advertising to ask viewers to send you an SMS message or visit a mobile site. Others are more expensive, such as mobile applications, which ca cost between $20,000 and $100,000 to develop a quality product.
Inbound marketing consultants in Toronto like us, Henderson Robb Marketing can help you focus on ongoing improvements to your lead generation programs to keep your insurance company, retail business or financial services organization ahead of the curve and help you market for success in 2016.